Peach blossoms bloom, Yan returns. On this warm spring day, we ushered in the 111th "March 8" International Working Women's Day. Hubei Tianyi Machinery Co., Ltd. sent holiday wishes to the company's female compatriots, and expressed deep respect!
In order to let the female compatriots in the company spend a happy holiday, strengthen the communication between colleagues, create a healthy, harmonious and positive holiday atmosphere, and further enhance the work enthusiasm of female employees who are dedicated and dedicated. The company's trade union planned and organized the "Jingzhou Fangte One-Day Tour" activity for female workers on Women's Day.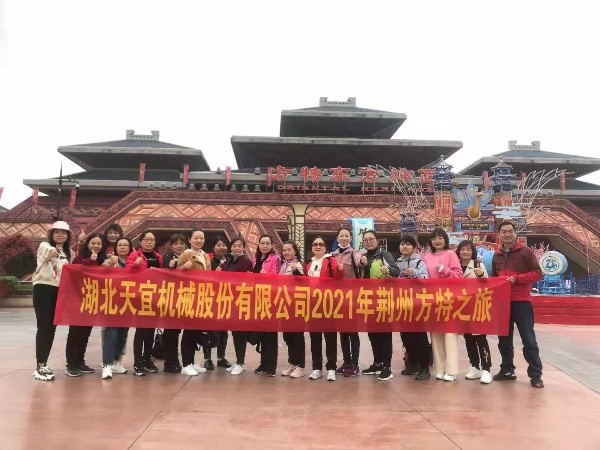 Jingzhou Fantawild Oriental Art Theme Park, located in Jinan Cultural Tourism Zone, is the largest and highest-level historical and cultural theme park in Hubei, and the first large-scale high-tech cultural theme park established in Hubei. Taking the Chinese historical civilization and Jingchu regional culture as the creative foundation, through new content creativity, technological innovation and ingenious layout, it presents the profound cultural connotation of Chinese history in front of tourists with a very immersive experience.
Although Jingzhou Fangte is close to home, our female employees have been leaning over to work for many years and rarely have time to go out. The laughter in the bumper car, the screaming in the jumping machine, and the pirate ship are all showing happiness and relaxation. Although the day was short, everyone was very happy. He expressed that he would come again if he had the opportunity to experience Jingchu culture and appreciate the great rivers and mountains of the motherland in "Let's Fly With You".

This trip to Fangte in Jingzhou is entertaining. Created a good festive atmosphere, reflecting the organization's cordial care. The female employees feel happy physically and mentally, release pressure, gather strength, let go of their mood, broaden their horizons, appreciate the culture, draw closer the feelings between colleagues, and gain happiness and joy. Women's flags show their style, and Jinshi builds dreams and blooms. Everyone said that they will devote themselves to the work with more enthusiasm and the best state. With the attitude of struggle, we will contribute to the development and growth of Tianyi Machinery, contribute new strength to our bright future, and show new achievements!